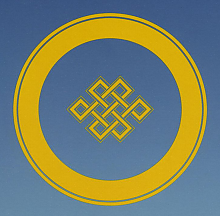 The Myth of Freedom and the Way of Meditation by Chogyam Trungpa: A book study with Jesse Miller
with Jesse Miller
Please join us for a mutual exploration of the teachings of Chogyam Trungpa during this recurring weekly book study


In her Foreword to the Myth of Freedom, Pema Chodron says:

"It is a profound distillation of Buddhist truths expressed in the accessible style of a master adept at translating them into the language of his audience. I was extremely eager to digest what he was saying. Over the years, this book has continued to be an endless source of benefit to me and many others."
Cost
Program Price: $80 (or $10 per evening)
*Patron Price $100
Nobody turned away for lack of funds.
Your donations of any amount help support the Berkeley Shambhala Center & it's continued offerings.
*Paying the Patron Price helps support particpants who cannot afford the full fee.
Contact
For questions contact Jesse Miller: berkeleyshabhala [at] gmail [dot] com.
Please read the appropriate chapter for discussion prior to attending class.
Registration
Please register and pay online in advance of the class to ensure your space and so that the coordinators know to expect you.