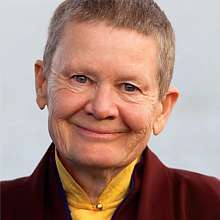 Pema Chödrön Study Group
We meet from 6:30 - 8:30 PM on the first Wednesday of the month.
"When you open yourself to the continually changing, impermanent, dynamic nature of your own being and of reality, you increase your capacity to love and care about other people and your capacity to not be afraid. You're able to keep your eyes open, your heart open, and your mind open."
Pema Chödrön
At our meetings, we will start with sitting meditation, watch videos or read from Pema's teachings, and discuss the teachings and how they apply to our everyday lives.
Newcomers are always welcome.
No previous meditation experience necessary.
Cost
$5-$10 suggested donation
Nobody turned away for lack of funds.
Your donations of any amount help support the Berkeley Shambhala Center & it's continued offerings.
Contact
Questions? Contact Karen : bctherapy [at] aol [dot] com