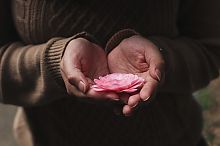 DIY Meditators
Every Thursday from 6 - 9 pm
This practice night explores the possibilty of a collaborative model of studying the dharma together.

We will practice sitting & walking meditation, share in a member's facilitation of anything from deep listening practices, social meditation, or whatever the group decides.

All who walk the path of openness and curiosity are welcome to attend.

Typical schedule as follows:
6 PM

Come as you are, bring your dinner,
have tea, settle in prior to sitting.

7 PM

The Corner Shrine Room is open for sitting practice;
no hurry, take your time if you need to!

8 PM

Dharmic activity, possibly as described earlier,
always relevant to the here & now.

9 PM

Return the space as we found it,
and leave with grace.
Questions, comments, humorous dharma puns can be addressed to Raen Thornberry, manager [at] berkeleyshambhala [dot] org
(Photo by Ester Marie Doysabas on Unsplash)
(Home page photo by Anthony Intraversato on Unsplash)