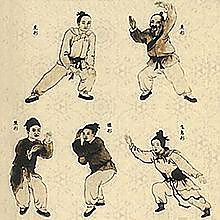 Qi Gong Level 1-2
with Michael Busby
Cultivate strength of body and calmness and clarity of mind through Taoist practices that integrate movement, breath, and qi (internal energy).
A form of gentle, relaxing exercise, qigong strengthens joints, muscles, tendons, and bones, increases flexibility, stimulates the circulation of energy in our body, and enhances mental clarity.
For persons who have physical challenges, qigong is an excellent way to gently introduce mobility and relaxation. Benefits of qigong include the promotionof health and longevity, and it can serve as a synergistic companion to meditation and other contemplative practices.
The forms of qigong taught in this program are primarily from the Xiantianwujimen lineage, a lineage founded by Chen Xiyi in 10th century China. Xiantian means primordial; wuji means limitless, and men means gate. The translated name of the lineage is Primordial Limitless Gate.
This lineage specializes in using qigong to simultaneously cultivate and transform body and mind. A hermit and household tradition, Xiantianwujimen has been transmitted uninterrupted for over a thousand years. Qigong techniques favored by this lineage include self-massage, tendon-changing, calisthenics, marrow-washing, and breath regulation.
Instruction in Xiantianwujimen is offered by Dr. Eva Wong who brought this lineage to the West and by instructors trained and authorized by Dr. Wong and the lineage. Our teacher Michael Busby is one of those instructors. (More information about Xiantianwujimen Taoism is available at the Limitless Gate website.)
In Qigong 1, you will learn six classic qigong techniques that relax the body and two postures of standing qigong that gather internal energy.
In Qigong 2 you learn how to guide energy through the body using the Nine Self-Massage. Finally you will learn Twelve Devas Tendon Changing, a form of qigong particularly effective for repairing physical injuries and enhancing muscular-skeletal strength.
Practicing these forms have corresponding mental benefits since in the Chinese arts of health and longevity, physical health and mental well-being are closely aligned.
Prerequisites
There are no prerequisites for this program, and both new and experienced practitioners are welcome. However, students are recommended to attend both levels.
The completion of Level 1 Qigong is required to attend the Sunday Level 2 program. Completion of Levels 1 and 2 are required to later attend Level 3.
(Please note that students should not teach any form of Xiantianwujimen without permission from the Lineage.)
Recommended Reading
Nourishing the Essence of Life: The Outer, Inner, and Secret Teachings of Taoism, by Eva Wong. Limited quantities of the book will be available for purchase during the weekend.
About the teacher
Michael Busby is a long time Shambhala student and the former Director of the Seattle Shambhala Center. He has been practicing and studying qigong with Dr. Wong since 2009 and is one of her students who has been authorized to teach the foundational qigong levels. He is also a martial arts practitioner.
Michael lives in Pittsburgh, Pennsylvania where he works in a business inspired by Daoist tea appreciation. Michael says he is grateful for the opportunity to share these precious, health-enhancing practices with others.
Price
Program price: $150
Repeater price: $99
Patron price: $200
The patron price helps us to extend scholarships or work-study attendance in programs to those who cannot afford them.
Registration
We appreciate you registering and paying online in advance. This helps us not only to plan for the program, but speeds up the registration line on the day of the program.

Visitor Information
Visit these links for information about parking, lodging, or our programs policy.
Contact
If you have questions about program content or schedule, please contact Eleanor.shambhalaqigong [at] gmail [dot] com or manager [at] berkeleyshambhala [dot] org