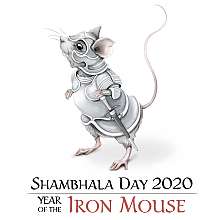 Shambhala Day 2020: Year of the Iron Mouse
Together, we will enter the New Year of the Iron Mouse and welcome its qualities of adaptability, cleverness, and contentment. The mouse is the first symbol in the Asian astrological cycle, and is therefore associated with newness and beginnings.
We've all been through an incredibly challenging time, personally and as a sangha. It feels important to recognize that many of us are in different places with our feelings about Shambhala, practice, and the Sakyong. It is our hope that we can be there for each other, amidst these differences, to practice, and be in community together.
For Shambhala Day, Shambhala Global Services is trying to create a broadcast that will feel inclusive and celebrating what we have in common.
The official live broadcast will begin at 10 AM PST
The broadcast program this year will include joining together in worldwide group practice, sharing Shambhala culture, and greetings from throughout our worldwide community. There will be new components to this year's broadcast as well as some more traditional elements.
Further awesomeness
If any of the following celebratory notions appeal to you:
~Community dinners at homes or in a local restaurant
~An all-ages dance, performance event, or social event at your Centre
~An outing with your community to a museum, concert, civic event or nature walk
~Activities for children
~Volunteer activities that support your local community
Please let JoshuaRaen know! They will be happy to nurture interest and support a developing offering.
Contact
For questions contact JoshuaRaen Thornberry - manager [at] berkeleyshambhala [dot] org
Registration
Please register and pay online in advance of the class to ensure your space and so that the coordinators know to expect you.