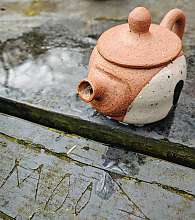 Tea Appreciation & Dharma Poetics
with Michael Busby & Travis Newbill
Tea Appreciation and Dharma Poetics
This is a coming together of the appreciation cooperative, where we quench our thirst for meaningful living by appreciating in bulk. The history of tea is long and storied, filled with artists and poets who find tea their companion through sorrow and joy, and contemplatives who see the ritual of life played out in the tea ceremony. Likewise, the history of poetry is filled with tea-lovers, yogis, and sages, whose cups overfloweth with perceptual and expressive richness—steeped to perfection through the practices of reading and writing. Maybe we are some of those poets and contemplatives too!
Let's jump into this continuum which flows through time, spills over into new places, and delights the senses. Here we have the opportunity to explore Dharma Poetics and the many facets of the culture of tea, and to treat these sacred mediums as reason to gather. This will be a day that is both inward and social. We will drink tea, meditate, read & write poems.
Please join us for the morning, the afternoon, or both. However we come together, enjoy each other's company, and dissolve again will be perfect.
Coordinator's notes:
~The day will have three sessions, which will compliment one another, and will also stand alone. All participants are welcome to come for any and all of the individual sessions. (You do not need to pay extra for attending multiple sessions!)

~The schedule is as follows:
9 am begins the 1st session
10 am includes Open House
12:30 concludes the 1st session

2 pm begins the 2nd session
5:30 concludes the 2nd session
6 pm begins the 3rd session (outdoors, with weather permitting)
7:30 concludes the 3rd session

~Please bring a writing instrument and material to write on.
About The Tea Peddler: Michael Busby shares his tea practice through Via Tiempo, a tea company that celebrates tea culture—emphasizing its seasonal, contemplative, social, and magical elements. In the mountains on qigong retreats, Michael first encountered gongfu cha and Daoist tea appreciation, learning from friends and from his teacher Eva Wong. When not wandering, he finds himself staying put in Pittsburgh, Pennsylvania still tasting tea and drifting to far off lands.
About the Poet: Travis Newbill earned his MFA from the Jack Kerouac School of Disembodied Poetics at Naropa University, where his main focus of study was the practice and tradition of dharma poetics—in the lineage of Chögyam Trungpa, Allen Ginsberg, Anne Waldman, and Reed Bye. He studied closely with the latter two. His work will be featured in the upcoming anthology Writing Utopia. He currently resides & surfs & writes in Santa Cruz, California.
About the Tea Peddler and the Poet: The tea peddler and the poet met at Shambhala Mountain Center in 2012, where their friendship grew amidst magpies and deer, over tea and poetry, through songs and stupa tours, in tiny wooden cabins—with aspens and thunderstorms quaking and roaring, respectively. Their friendship continues to open, through subsequent steeps of meeting/meaning—a quality tea.
Contact
For questions contact JoshuaRaen Thornberry: manager [at] berkeleyshambhala [dot] com
Registration
Please register and pay online in advance of the class to ensure your space and so that the coordinators know to expect you.
This will also allow Michael to bring the necessary amount of tea for each participant!
Generosity Policy
Nobody turned away for lack of funds.
Your donations of any amount help support the Berkeley Shambhala Center & it's continued offerings.
*Paying the Patron Price helps support participants who cannot afford the full fee.