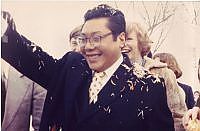 Parinirvana Day Online—Celebrating the Life of Chögyam Trungpa Rinpoche
Please join us in celebrating the life, teachings, and remembrances of our founder, Chögyam Trungpa Rinpoche, on the 33rd anniversary of his parinirvana (passing from this physical realm).
Schedule
| | |
| --- | --- |
| 9:30 AM | Opening Chants and Sitting Mediation |
| 10 AM | Sadhana of Mahamudra |
| 11 AM | Discovering Elegance video |
| 11:30 AM | Readings from the Vidyadhara's books, remembrances, and discussion |
All are welcome and encouraged to join.
Cost
There is no charge to join, any donation goes toward supporting the Berkeley Shambhala Center and its offerings. You can donate to the Berkeley Shambhala Center using this link.
For more information or to help in any way, please contact Jesse Miller: shambhalaberkeley [at] gmail [dot] com
How to Join
This event is taking place on the Zoom platform. You may need to download the Zoom app onto your phone, tablet, or computer. You can find is a list of Zoom FAQs at this link.
Join URL: https://zoom.us/j/241421468