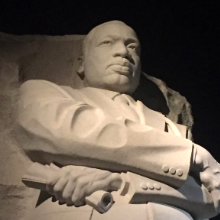 Creating Good Human Society within the Racism Pandemic
with Charlene Leung
With the most vulnerable in society impacted by the coronavirus pandemic, pre existing social inequities were clearly exposed. What is the racism pandemic? How can we create good human society in these dark times? Is it even possible? How can Shambhala teachings help?
The atrocity of centuries old social injustice can be numbing, but it's hard to ignore after the brutal killing of George Floyd and the overwhelming public outcries across the world. Now, two months later where are we?
Join us for talk, guided meditation, and speaking from the heart in small groups. For any Black, indigenous, or people of color present who desire a small group for BIPOC only, it will be provided.*
*If you are not familiar with the process of racial caucusing, you can read more about it in two excellent articles by Kelsey Blackwell and Alex Vlasic in The Arrow Journal.
About the Teacher
Charlene Leung has been a Shambhala Buddhist since the early 1980's. She served as Chairperson of the Shambhala International Diversity Working Group 2009-2020, as Shastri 2010-2018, and Acharya 2018-2020. Over the years, in addition to leading Way of Shambhala and parenting as path programs, Charlene has trained and mentored Shambhala instructors.
She also facilitated groups for the UNTraining, a Shambhala inspired organization dedicated to healing internalized racism. Her teaching focus has been developing and leading programs that join the Shambhala dharma and unraveling social oppressions.

Cost
Program Price: $20
Patron Price: $50
Or pay in accordance with your circumstances (write in the amount)
Generosity Policy
No one will be turned away for lack of funds. Paying the full program or patron price provides much needed support to Berkeley Shambhala. For more information please see our generosity policy.
Registration
Please register and pay online in advance of the class in order to receive the Zoom link for the program.
Contact
If you have questions, please contact Robert: education [at] berkeleyshambhala [dot] org.
About Zoom
This program will be presented on the Zoom platform. It is available for computers, smart phones, and tablets. You will need to download the free app on your device before joining the session. Once it is loaded, click the link and follow the prompts to join the session.
It is best to join 5 minutes in advance so that you are set up when the session begins.
And, make certain that your mic is muted when you join to avoid background noises which are multiplied with many participants.
Learn more about Zoom here: https://zoom.us
You can find is a list of Zoom FAQs at this link