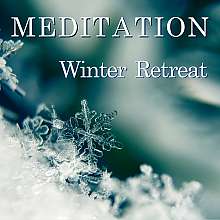 Back to Basics Winter Meditation Retreat: Coming Home As Community
with Acharya Suzann Duquette
Join us for our annual winter meditation retreat!
This has been an unprecedented year—a complete disruption of our normal lives that has led to a new normal. It has been an uncertain and groundless time, yet has brought a slowing down, hard-to-escape recognition of habitual patterns, and yearning for awake and caring community. This year's winter retreat will embrace all levels of practitioners to come home to rest our body, speech, and mind on the meditation cushion and come together as an online community to deepen our study and practice connections.
Winter is a natural time to step back and rest in simplicity and practice. Join this retreat to steep in the basics and find a fresh start. The week will be a time to settle into our practices and study selected foundational teachings, including the four reminders – precious human birth, impermanence and death, karma, and samsara.
Take this opportunity to steep in the simplicity of practice and study of essential Buddhist teachings. Let's enjoy this week to practice and share wisdom together.
This retreat is open to all. There are no prerequisites.
This retreat is open to the public and all are welcome to join us. Beginning and experienced meditators will practice together.
Mudra Space Awareness
As part of these wisdom teachings, we will explore aspects of Mudra Space Awareness, introduced by Chögyam Trungpa Rinpoche. Mudra brings a fresh awareness that informs our meditation practice and how we imprint the teachings into our mind streams and lives.
Mudra Space Awareness is a method of mind/body training that draws inspiration from Tibetan monastic dance. The exercises combine physical training with focused sensory awareness to increase mental clarity, unlock our inherent freedom, and create a radical shift in our understanding of the mind/body relationship. You can learn more on the Mudra Space Awareness website.
What to expect
The retreat will include sitting and walking meditation and instruction, dharma talks, silence, and movement. We will support each other in maintaining the joyful discipline of retreat in community.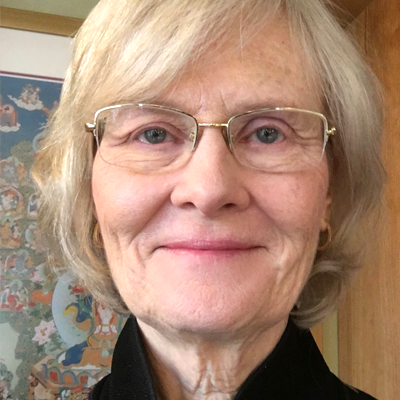 Acharya Suzann Duquette has been a student of Shambhala Buddhism for thirty-five years, beginning with the first summer session of The Naropa Institute. In 1974, she joined Berkeley Dharmadhatu and the Mudra Space Awareness group practicing there, and took refuge.
Acharya Duquette respects the power of body awareness in manifesting Shambhala Buddhism, and emphasizes body discipline training in her teaching.
She is currently is Resident Acharya at Karmê Chöling, where she teaches and consults in the area of practice and education. She is core faculty of the Mukpo Institute of Karme Choling and holds several volunteer positions, including Karmê Chöling Council member and Expansion Co-chair.
On Shambhala Day 2011, Sakyong Mipham Rinpoche designated Acharya Duquette as Rupa Acharya. In this position, she is responsible for strengthening and furthering the Shambhala lineage in the areas of sacred ceremonial and liturgical forms. The Rupa Acharya furthers consistent view and deep training in the outer and inner forms of Shambhala ceremonies and liturgies, including chants, and oversees umdze and choppön training.
Sample Schedule
| | |
| --- | --- |
| 9 to 10:30 AM | Opening chants and Morning Meditation Practice Session |
| 10:30 to 11 AM | Break |
| 11 AM to 12:15 PM | Talk |
| 12:15 to 1:30 PM | Lunch Break |
| 1:30 to 3 PM | Afternoon Meditation Practice Session |
| 3 to 3:30 PM | Break |
| 3:30 to 4:45 PM | Discussion Groups / Social time (optional) |
| 4:45 to 5 PM | Break |
| 5 to 6 PM | Closing Practices and Chants |
Vajrayana practitioners
This retreat will include both shamatha and vajrayana tracks. We will break into separate groups for both morning and afternoon practice sessions.
Partial Attendance
If you can't be there for the whole week you are welcome to drop in for a day or more.
Cost
Program Price: $350
Patron Price: $450
Other (Seniors and Students): $250
Day rate $60 to $80 per day sliding scale (write in the amount)
Or Pay what you can afford (write in the amount)
Generosity Policy
No one will be turned away for lack of funds. Paying the full program or patron price provides much needed support to Berkeley Shambhala. For more information please see our generosity policy.
Registration
Please register and pay in advance to make certain you receive all the relevant information before the retreat. The Zoom link will be sent to you after you register and pay.
Contact
For further information, please contact Robert Fox: education [at] berkeleyshambhala [dot] org
This retreat will take place on the zoom platform.
About Zoom
This program will be presented on the Zoom platform. It is available for computers, smart phones, and tablets. You will need to download the free app on your device before joining the session. Once it is loaded, click the link and follow the prompts to join the session.
It is best to join 5 minutes in advance so that you are set up when the session begins.
And, make certain that your mic is muted when you join to avoid background noises which are multiplied with many participants.
Learn more about Zoom here: https://zoom.us
You can find is a list of Zoom FAQs at this link