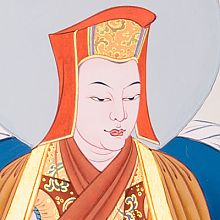 Waking Up In The Dark Age: May the Path Clarify Confusion
with Acharya Richard John
It is not necessary to attend the first three sessions as each talk stands on its own as well as belonging to a series.
Program Registration ends at 6:00 pm Pacific Time

T he Four Dharmas of Gampopa

Grant your blessings so that my mind may become one with the dharma

Grant your blessings so that dharma may progress along the path

Grant your blessings so that the path may clarify confusion

Grant your blessings so that confusion may dawn as wisdom
_______________________________________________
We are truly experiencing the onset of the dark age, which the Vidyadhara Chögyam Trungpa Rinpoche described as a time of "pollution and interruption," when "the blessings of spiritual energy are being lost." For committed practitioners, these times call for dharma teachings of urgent simplicity.
One of the most elegant pith instructions describing the dynamic process of the buddhist path is well known as the Four Dharmas of Gampopa. A mainstay of the "practice lineages," they are attributed to Gampopa, the main disciple of Milarepa and guru to the first Karmapa.
Each of the Four Dharmas contains practice advice that is accessible and free of intellectual speculation, and immediately relevant for all of us in this day and age.
---
You might find that the elementary level [of teaching] is very profound and brilliant. This is the same way that I, myself, was raised as a true Mukpo.
—Chögyam Trungpa Rinpoche
---
The Four Dharmas
This is the third of a 4-part series that explores the Four Dharmas of Gampopa. Each program will be sponsored at a different center. Every session will include meditation, a talk, and ample time for questions and conversation.
Please note that you will need to register and pay for each talk separately at each respective center. Registration for the following talks will open soon.
May Dharma Progress Along the Path
January 16th with Davis Shambhala
May Confusion Dawn as Wisdom
May 15th with Santa Rosa Shambhala
About Acharya Richard John
A long-time friend of the Northern California Shambhala Centers, Acharya John took refuge with Chögyam Trungpa Rinpoche in Berkeley in 1976. He was appointed acharya by Sakyong Mipham Rinpoche, and for many years has taught Shambhala Buddhist programs in the US, Canada, and internationally. He completed the first three-year group retreat at Gampo Abbey, and now teaches full time. Acharya John and his wife Liz reside in Halifax, Canada.
Heart Gifts for Acharya Richard John
This completely voluntary gift can be made according to your inspiration. It is an expression of gratitude for receiving the teachings. There is no suggested amount—any amount is appreciated.
Cost
Program Price: $40
Patron Price: $60*
Seniors, students, and limited income: $20 (please use other price)
Or pay what you can afford, nobody will be turned away for lack of funds. Write in the amount.
*Paying the patron price helps others who cannot pay full price.
Registration
Please register and pay at least 24-hours in advance in order to receive the Zoom link. Note that all registrations must be manually processed and there will be a lag time before receiving the zoom link.
Contact
If you have any questions, contact Robert Fox:
education [at] berkeleyshambhala [dot] org
About Zoom
This program is through the Zoom platform. It is available for computers, smart phones, and tablets. You will need to download the free app on your device before joining the session. Once it is loaded, all you need to do is click the link and follow the prompts to join the session.
It is best to join 5 minutes in advance so that you are set up when the session begins.
Learn more about Zoom here: https://zoom.us
You can find is a list of Zoom FAQs at this link.