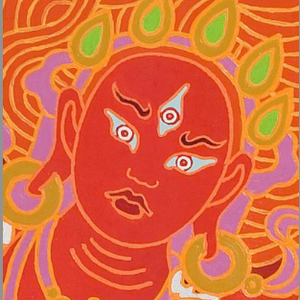 Regional Mamo Chants
Shambhala Day marks the end of one year's cycle and the beginning of the new.
To dispel the karmic accumulation of personal, social, and environmental chaos at the year's end, all students are encouraged to practice as much as possible in the period just before Shambhala Day. In particular, students are encouraged to recite the mamo chants together beginning eleven days before Shambhala Day.
The mamo chant is an elaborate protector offering traditionally recited from the twentieth through the twenty-ninth days of the last lunar month of the Tibetan year. By reciting the chant, we tune into the protector principle of awareness and reconnect with sacred outlook.
The day before Shambhala Day is considered neutral and is a traditional time to clean and refresh one's home and shrines in preparation for the coming year.
Here are three articles to help you learn more about this time of year and protector practice.

Protector Principle by Dorje Loppön Lodrö Dorje
Obstacles and Antidotes by Shastri Andrew Sacamano
Finishing One Year, Starting Anew by Walker Blaine
Schedule
Every evening from 7 to 8 PM
Price
There is no cost to attend this practice session. And, donations are gratefully accepted.
These practice sessions will take place on the zoom platform.
Zoom Join Url: https://us02web.zoom.us/j/84003077576?pwd=elh3cW9aV25ueWEycUF4SFAwRzJEUT09
About Zoom
This program will be presented on the Zoom platform. It is available for computers, smart phones, and tablets. You will need to download the free app on your device before joining the session. Once it is loaded, click the link and follow the prompts to join the session.
It is best to join 5 minutes in advance so that you are set up when the session begins.
And, make certain that your mic is muted when you join to avoid background noises which are multiplied with many participants.
Learn more about Zoom here: https://zoom.us
You can find is a list of Zoom FAQs at this link