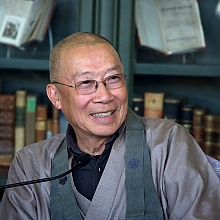 A Morning with Jakusho Kwong-Roshi
Registration Ends Tonight at 9:00 pm Pacific Time
Please join us this Saturday morning for a talk and discussion with Jakusho Kwong-roshi, the founder and Abbot of the Sonoma Mountain Zen Center.
Roshi will speak about Chapter 7, The Goddess, from Robert Thurman's translation of the Holy Teachings of Vimalakirti, a Mahayana Scripture.
Morning Schedule
9:00 Heart Sutra & Sit
9:30 Talk
10:00 Questions & Answers
10:30 Dedication of Merit
About the teacher
Jakusho Kwong-roshi, founder and residing abbot of Sonoma Mountain Zen Center, has taught Zen students in the United States and Europe for over 40 years. He is a successor in the lineage of Shunryu Suzuki-roshi and author of Breath Sweeps Mind: The Intimate Heart of Zen and No Beginning, No End. He is also a dear decades-long friend to the Shambhala sangha.
Pricing
Suggested Donation: $20
Patron Donation: $50
Or pay in accordance with your circumstances (write in the amount).
Generosity Policy
No one will be turned away for lack of funds. For those who can pay the patron rate, funds will go towards ensuring everyone has access to the talk. For more information please see our generosity policy.
Registration
Please register and pay online in advance of the class to ensure your space and in order to receive the Zoom link for the program.
Donate to SMZC
There will be an opportunity during and after the program to make a donation to the Sonoma Mountain Zen Center.
Contact
If you have questions, please contact JoshuaRaen, manager [at] berkeleyshambhala [dot] org
About Zoom
This program will be presented on the Zoom platform. It is available for computers, smart phones, and tablets. You will need to download the free app on your device before joining the session. Once it is loaded, all you need to do is click the link and follow the prompts to join the session.
It is best to join 5 minutes in advance so that you are set up when the session begins.
And, make certain that your mic is muted when you join to avoid background noises which are multiplied with many participants.
Learn more about Zoom here: https://zoom.us
You can find is a list of Zoom FAQs at this link