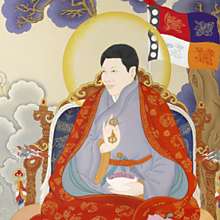 Dharmaraja Guru Yoga: Clarifying and Purifying Our Relationship to the Sakyong Lineage
with Acharya Dan Hessey
Guru yoga is the root of blessings and the core of vajrayana practice. In Shambhala, the guru and the sovereign are inseparable and therefore we say dharmaraja or chakravartan.
In this practice we are connecting to the energy of the Mukpo linkage arising from Gesar Norbu Dradül. By connecting deeply to the Dorje Dradül and Sakyong Mipham Rinpoche we are able to transcend hesitation and become potent in meeting the challenges of the darkest hour of the dark age.
Overall, Dharmaraja Guru Yoga allows us to recognize that the essence of our heart and mind is inseparable from that of the Sakyongs.
Acharya Hessey will be presenting these talks from Karma Chöling, where is currently resides.
Please join us as we come together as a community to connect deeply to this seminal practice.
About the teacher
Acharya Dan Hessey first met the dharma in 1973 and has studied and practiced with the two Sakyongs since that time. He served as director of Shambhala Mountain Center in the 1980s and recently published two volumes of Enlightened Society: A Shambhala Buddhist Reading of the Yijing, a translation of the Chinese classic. He currently resides at Karme Choling.
Prerequisite
This program is restricted to vajrayana students who have receive the lung for Dharmaraja Guru Yoga.

Cost
Program Price: $150
Patron Price: $200
Students and Limited Income: $100
Or pay what you can afford. Nobody will be turned away for lack of funds.
Registration
Please register and pay online in advance to secure your space and make certain you receive important communications.
This is an online event on the Zoom platform. However, if you wish to gather in self-organized groups at your center or someone's home, this is another option. Participants must register individually.
Contact
If you have questions, please contact Robert Fox: education [at] berkeleyshambhala [dot] org
Image: Detail of the Vidyadhara Thangka by Greg Smith