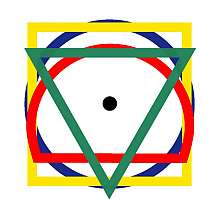 Shambhala Art Parts 1 and 2
with Robert Fox & Kerry Schwartz

Please join us for a fun, interactive online weekend exploring the Shambhala Art teachings. This program is for everyone interested in engagement with the intersection of creativity and contemplative practice.
What to expect
experiential art exploration
group collaboration and discussion
Shambhala Art talks
Shambhala Art is about exploring the creative process and the product we call art from the viewpoint of a meditative discipline. It does not teach a particular skill or technique such as painting, sculpture, or dance, but is about the source of inspiration for all creative expression and perception. This view and path can support the practice of any artistic discipline. As envisioned by Chogyam Trungpa Rinpoche, the Shambhala Art teachings are about discovery, play, and the universal nature of creativity and communication channeled through wisdom of Shambhala and the buddhadharma.
Does the creative process have more to do with perception than talent?
In part one on Saturday, we explore why contemplative disciplines such as meditation are the ground for all creative endeavors. Through meditation, we come to see things as they are rather than how we think or imagine they are. Through hands-on exercises, we will explore perception and our capacity for spontaneous creative expression, devoid of lots of thinking and struggle. Meditation helps this process by relaxing our "self-talk" and opening us to the source of creativity.
In part two on Sunday we will go further with an idea that what we create and perceive communicates through signs and symbols. Signs communicate information, the thought-sense of things. Symbols are primarily about non-conceptual direct experience, felt as the nonverbal, immediate presence of things. We will again engage in spontaneous art exercises with group discussion to highlight the difference between signs and symbols and how they work together. This points to discovering how to "rest in the gap" between thought and non-thought as the ground of inspiration, to be explored in Part 3!
What a work of art is all about is a sense of delight. Touch here, touch there, delight. It is an appreciation of things as they are and of what one is—which produces an enormous spark. Something happens, clicks, and the poet writes poems, the painter paints pictures, the musician composes music."
—Chogyam Trungpa
About the Teachers

Kerry Schwartz has been a student and teacher of meditation in the Tibetan Buddhist and Shambhala traditions for many years. She enjoys art disciplines like ceramics, drawing, and mixed media, and has an M.A. in Transformative Art for John F. Kennedy University. Kerry delights in sharing mutual discoveries about the creative process.

Robert Fox was born in Portchester, N.Y. He is a long time Bay Area visual artist who works with digital video, photography and sound to create multi layered and richly textured visual/aural experiments. He is also a student and teacher in Shambhala He received his MFA in Filmmaking from SFAI and has an MFA in Electronic music and recording media from Mills College.
"What if imagination and art are not frosting at all, but the fountainhead of human experience?"
― Rollo May
Cost
Program Price: $125
Patron Price: $150
Other (Seniors and Students): $75
Or Pay what you can afford (write in the amount)
Generosity Policy
No one will be turned away for lack of funds. Paying the full program or patron price provides much needed support to Berkeley Shambhala.
For more information please see our generosity policy.
Registration
Please register and pay online in advance to make certain you receive all the relevant information before the retreat. The Zoom link will be sent to you before the program after you both register and pay. You can always leave a note with your registration to tell us of any special circumstances.
Contact
For further information, please contact Robert Fox: education [at] berkeleyshambhala [dot] org
This retreat will take place on the zoom platform.
About Zoom
This program will be presented on the Zoom platform. It is available for computers, smart phones, and tablets. You will need to download the free app on your device before joining the session. Once it is loaded, click the link and follow the prompts to join the session.
It is best to join 5 minutes in advance so that you are set up when the session begins.
And, make certain that your mic is muted when you join to avoid background noises which are multiplied with many participants.
Learn more about Zoom here: https://zoom.us
You can find is a list of Zoom FAQs at this link