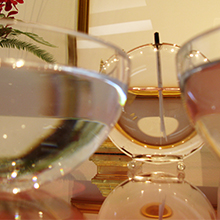 Exploring the Power and Practice of Ritual—Invoking Drala
with Susan Arnesen & Irv Kirschbaum
Join us for an exploration in how to relate to ritual as a practice in our homes and centers. Ritual is a means of connecting with and calling upon "Drala" or environmental energies to create a powerful practice environment. This program is based on the Shambhala Online Course: "Lineage as the Heart of Ritual: How we Invoke Lineage through Ritual in Our Households and Our Lives" and addresses ritual in general and Shambhala Ritual, specifically.

Everyone is welcome, and we want to especially encourage the attendance of those who aspire to be—or who have participated as—an Umdze or Chöpon in your Centers or at programs. Umdze refers to the time keeper position, the one who holds the space at the front of the meditation hall. And, the Chöpön is the shrine keeper, the one who attends the shrine during practices and rituals.
We plan for this to be the first of many opportunities to refresh, engage, and deepen our understanding of community and household ritual.

During the program, we will discuss the potency of carrying forward rituals that have been passed from teacher to student since the time of the Buddha; and how we can keep that ritual practice fresh and alive today and into the future!
The day will include time for chants, meditation practice, and group discussion, as well as a recorded talk by Acharya Suzanne Duquette. We will practice vocalization exercises, demonstrate Umdze and Chöpön practices, and have time for open discussion.
This program will be presented online on the Zoom platform.
Schedule
10:00 AM Morning Session
1:00 PM Lunch Break
2:00 PM Afternoon Session
4:30 PM Closing
Cost
Program Price: $40
Patron Price: $80
Students and Limited Income: $20
Nobody turned away for lack of funds.
Registration
Please register and pay online in advance of the program. Early registration helps the teachers plan for the program.