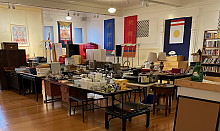 Huge Garage Sale
Having successfully transitioned our large assortment of beloved possessions out of our inner sanctum (Corner Shrine, Community room, kitchen, & Tantra Shrine), we now have a cluttered Main Shrine Hall! Please help us fit our container by coming by our huge Garage Sale, a mini-fundraiser to support the center in a variety of ways.

Here you will find books, kitchenware, tables, bureaus, lamps, cushions, mats, children's toys, photographs, office supplies, and much more!
Everything must go! . . . for any sort of heart-filled donation.
We will have top-of-the-line air filters running the entire time, and ask that everyone wear masks during their visit.
This will likely be an excellent catching-up opportunity as well. Who knows who you'll run into at the event?