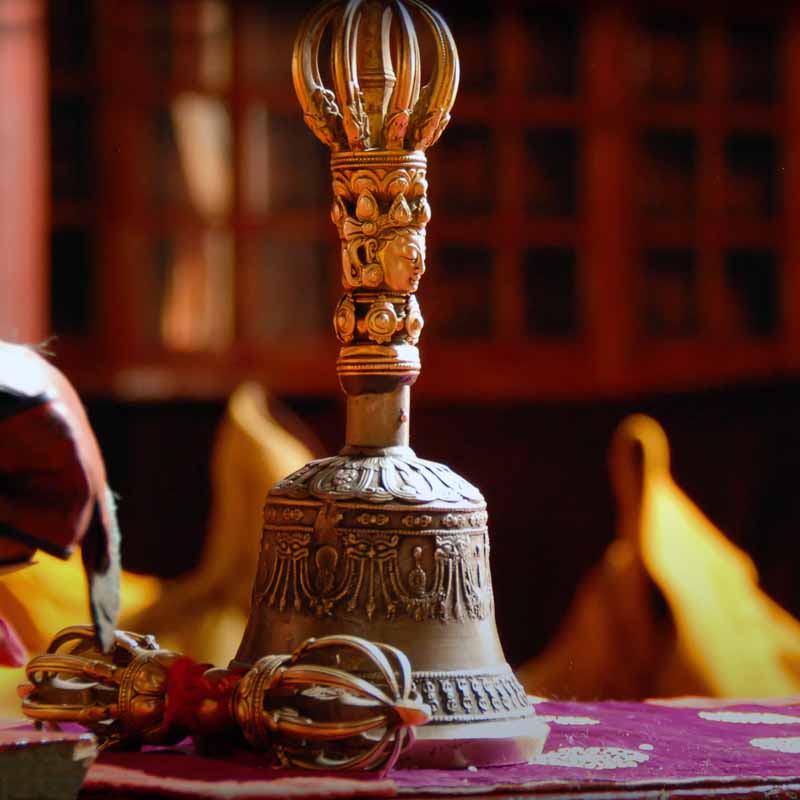 The Magic of Vajrayana: a Morning with Author Ken McLeod
ONLINE VIA ZOOM Presented by the Berkeley Shambhala Center
---
The Berkeley Shambhala Center is pleased to offer this rare opportunity to see and engage with Ken McLeod on his recently published book, The Magic of Vajrayana. (Along with Reflections on Silver River and A Trackless Path, The Magic of Vajrayana completes a trilogy of experiential instruction in the Tibetan Buddhist tradition.)
The Magic of Vajrayana opens new doors and immerses you in one of Tibetan Buddhism's most vibrant traditions of mystical practice. Written in simple clear English, the book bridges the gap between classical instruction and idealized descriptions of spiritual insights and understandings. It shows you how to bring a traditional practice text to life for each of Vajrayana's three pillars: Teacher, Deity and Protector.
This intimate portrait of Vajrayana practice is in effect an empowerment. It plants seeds in the reader which, if nurtured, grow into spiritual insight, non-referential compassion, and a changed relationship with life.
---
As an introduction, enjoy this video clip about the book
The Magic of Vajrayana:
This book is intended for three groups of people —
Those currently practicing Vajrayana, those interested in practicing Vajrayana, and those whose lives have cracked open. For the first, I offer my experience and understanding in the hope that it will clarify your own practice. For the second, I give you a taste of what practice in this tradition may involve. For the third, whether you experienced some kind of awakening, your life took an unexpected turn, or you are lost beyond words, another's path may unveil something that speaks to yours.
It is highly recommended that attendees be reading or have read the book before the program. The Magic of Vajrayana is available in hardback, paperback and ebook on Amazon and other booksellers. Discounts are available to center's ordering 10 or more copies from [email protected].
---
About Ken McLeod
Ken McLeod is a senior Western translator, author, and teacher of Tibetan Buddhism. He received traditional training mainly in the Shangpa Kagyu lineage through a long association with his principal teacher, Kalu Rinpoche, whom he met in 1970.
Under Kalu Rinpoche's guidance, McLeod learned the Tibetan language and completed two traditional three-year retreats (1976–1983). In the years that followed, he traveled and worked with Kalu Rinpoche on various projects, and became a prominent translator of Buddhist texts, including a landmark translation of The Great Path of Awakening by the first Jamgon Kongtrul, a key text in the teaching of lojong ("mind training").
Ken McLeod is described as one of the more innovative Buddhist teachers today and is known for his poetic translations, clear explanations and his pragmatic approach to practice. He is one of the first generation of Western teachers in the Tibetan tradition and one of the few authorized to transmit the full scope of these teachings. Read more on Ken's website: unfetteredmind.org
---
ABOUT ZOOM This program will be presented on the Zoom platform. It is available for computers, smart phones, and tablets. You will need to download the free app on your device before joining the session. Once it's loaded, click the link and follow the prompts to join the session. Please join us at least 5-10 minutes in advance so that you're set up when the program begins. And, make certain that your mic is muted when you join to avoid background noises which are multiplied with many participants. Learn more about Zoom here: https://zoom.us You can find a list of Zoom FAQs at this link.
---
The Magic of Vajrayana: a Morning with Author Ken McLeod
Saturday, September 30 • 10:00 am to 12:00 pm
Online via Zoom
$35

Program price

$50

Patron price

$25

Seniors, students, limited income price

Pay what you can afford:

write in dollar amount in space
NOTE: the program will be recorded, and a link provided, post-program for all who have registered, whether they are able to attend "live" or not.
Questions? Please contact Faith Miller: fomiller55 [at] aol [dot] com