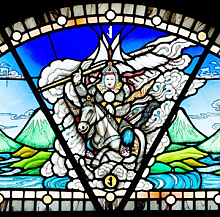 Werma Feast
with Charlene Leung
Save the date for the August Werma Feast
We hope you are well and safe as we continue to shelter in place. Let's virtually gather and feast together as a vajra sangha to invoke the magic of Werma and Drala and extend compassion and peace to our world.
We aim to start on time, and you will need to have some things ready before we start. The Zoom room will be open by 3:40 so you can arrive and settle. During the feast there will be an opportunity for small group conversations and personal offerings.
An email has been sent which includes all the details for practice setup. You need to RSVP in order to get the Zoom link.
Please RSVP to Faith so we can know how many to expect: Faith: fomiller55 [at] aol [dot] com

Also if you would like to make a short offering (eg. poem, song, or visual) please let Faith know.
Restricted Practice
This is a restricted practice for those who have formally received the abhisheka