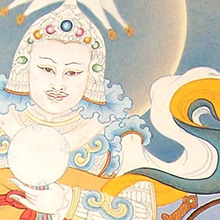 Werma Feast
With this feast offering we purify our mind with bodhichitta, Vowing to help others like a true warrior, unafraid of death.

Let's virtually gather and feast together as a regional vajra sangha to invoke the magic of Werma and Drala and extend compassion and peace to our world.
We aim to start on time, and you will need to have some things ready before we start. The Zoom room will be open by 3:40 so you can arrive and settle. During the feast there will be an opportunity for small group conversations and personal offerings.
RSVP to Faith so we can know how many to expect: faithomiller [at] gmail [dot] com
And, if you did not receive the invitation via email with the details for practice setup, please email the above address and ask for it to be forwarded.
Also if you would like to make a short offering (eg. poem, song, or visual) please let Faith know.