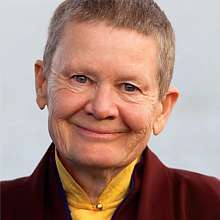 The Wisdom of Pema Chödrön: a Study Group on Zoom
(We meet on the first Wednesday of every month)
Join us as we delve into the brilliant teachings of Pema Chodron in the Pema Chödrön Study Group. With warmth and humor Pema helps us to lift the barriers to being the radiant self that we really are.


The Pema group has been a source of inspiration and learning at Berkeley Shambhala for over 15 years. We are an open group. All are welcome. There are no prerequisites.
Our goal is to deepen our understanding of Pema's teachings, her insights, and deep knowing, and how they apply to our everyday lives.
In each meeting we begin with an introduction and a guided meditation. Then we will listen to a section of Pema's teachings, read by the evening's host. We read slowly, taking time for discussion throughout our meeting. It is this heartfelt sharing that makes our meetings so vital and rich!
More than ever, Pema's teachings are relevant and profoundly helpful in this time of great change
Contact
Questions? Contact JoshuaRaen : manager [at] berkeleyshambhala [dot] org