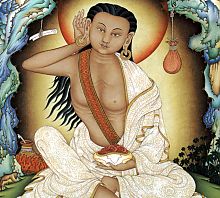 Regional Milarepa Day Celebration
Drop in anytime, for as long as you wish, to celebrate the songs and stories of the Kagyu lineage as we read aloud from The Rain of Wisdom: The Essence of the Ocean of True Meaning. Milarepa Day has been a tradition in our sangha for 40 years.
Taste the flavor of the obstacles, supplications, stories, and celebrations of hundreds of years of practice, contemplation, and study from those who came before us and kept these precious teachings alive for future generations.
About Milarepa Day
Milarepa Day is one of the annual celebrations of the Shambhala community. It is held on or near the full moon following Shambhala Day. Milarepa Day offers the opportunity to come together and join our voices in union with the words of others who, like Milarepa, have struggled with disillusionment, worked with renunciation and searched for a path and a teacher.
By reading the dohas and stories in The Rain of Wisdom we are connecting to the practice of devotion, courage and insight through our Kagyu lineage holder songs.
Cost
This program is free and open to all. Donations are gratefully accepted.
Zoom Invitation
Zoom Join URL: https://us02web.zoom.us/j/81043319879?pwd=dzd3bjlWaE9WUnZDVmorT2ZtWElQUT09
Meeting ID: 810 4331 9879
Passcode: 425387