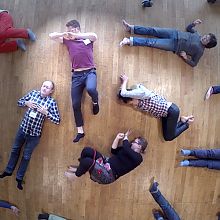 Social Presencing Theater
with Acharya Arawana Hayashi
A few years ago, I traveled three times to New York to participate in Social Presencing Theater; it was the most transformative mindfulnesswork I had ever done. It continues to bring me tremendous joy and a sense of purpose.

I am delighted that Arawana is offering this course online so I will not have to travel to New York to experience it again!

—Mina Dadgar, Berkeley Shambhala Member
Social Presencing Theater is an innovative social art form that brings the teachings of Shambhala Art into the context of personal reflection and the ego-to-eco system social change paradigm developed by the Presencing Institute.
Participants will cultivate embodied personal presence through body-based mindfulness practices; and develop skill in creating healthy, coherent and generative 'social bodies' and social fabric through heightened space awareness.
Through the use of both non-verbal techniques and dialogue to inquire into "stuck" situations, we can make underlying patterns more visible. We can illuminate both the current reality and the emerging future possibilities. This supports the ability to access fresh insights, prototype creative paths to transformation, and develop skills for effective and compassionate leadership in the systems and communities we care about most.
About the Instructor
Arawana Hayashi's work as a choreographer, dancer and educator is deeply sourced in the teachings on art given by Chogyam Trungpa, Rinpoche and on her experience in collaborative improvisation. She currently heads the creation of Social Presencing Theater (SPT) for the Presencing Institute and is an acharya (senior teacher) in Shambhala, a community that links individual basic goodness to the creating of "enlightened" society.
Learn more about the Social Presencing Institute on their website.
Watch a video about Social Presencing Theater
Pricing
Program Price: $200
Patron Price: $250
BIPOC Special Price: $95
Or pay in accordance with your circumstances (write in the amount).
Generosity Policy
No one will be turned away for lack of funds. For those who can pay the patron rate, funds will go towards ensuring everyone has access to the weekend. For more information please see our generosity policy.
Registration
Please register and pay online in advance of the class to ensure your space and in order to receive the Zoom link for the program. If you register without payment there is no guarantee you will receive the link in time for the program. Please review our generosity policy if you have any questons about payment.
Contact
If you have questions, please contact JoshuaRaen, manager [at] berkeleyshambhala [dot] org
About Zoom
This program will be presented on the Zoom platform. It is available for computers, smart phones, and tablets. You will need to download the free app on your device before joining the session. Once it is loaded, all you need to do is click the link and follow the prompts to join the session.
It is best to join 5 minutes in advance so that you are set up when the session begins.
And, make certain that your mic is muted when you join to avoid background noises which are multiplied with many participants.
Learn more about Zoom here: https://zoom.us
You can find is a list of Zoom FAQs at this link