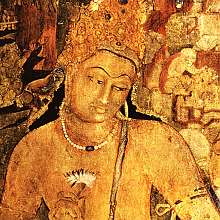 Understanding the Heart Sutra
with David Hope
Join us for an exploration of teachings on The Heart Sutra.
The Heart Sutra is often chanted in Shambhala Centers. It is one of the core texts of Mahayana Buddhism worldwide, and presents the teachings on Shunyata, or Emptiness.
This text is very pithy and condensed, and is therefore not easy to understand. In fact, the idea of Emptiness is often misunderstood to be suggesting the utter non-existence of all phenomena. However, this teaching is pointing to a more subtle truth that exposes our habit of solidifying our experience by clinging to our concepts.
This tendency is one of the ways we create unnecessary problems and confusion for ourselves and others, which lead to conflicts and suffering of all kinds. We see this process playing out increasingly vividly on the personal, social, and political level. Meditation practice on emptiness is a valuable antidote to this universal human tendency, helping us realize and let go of these habitual patterns.
About the Teacher
David Hope has been a student of Chögyam Trungpa Rinpoche and Sakyong Mipham Rinpoche for the past 40 years. He helped establish the London Shambhala Center in the early 1980's. He has been involved with Dechen Chöling, the European residential practice centre in France since its beginnings in 1995, as one of its first co-directors, and in many other ways.
David Hope has taught widely in Europe and other countries worldwide, including Australia, New Zealand and South Africa. In 2005 he was appointed as Acharya (a senior teacher) for the Shambhala community, but recently retired from that position, although continuing to teach, mostly online at this time. He now lives on the south coast of England with his wife, Chris de Block.
Cost
Program Price: $40
Patron Price: $60
Senoirs, Students, and Limited Income: $20
Or pay what you can afford. Nobody turned away for lack of funds.
Registration
Please register and pay at least 24-hours in advance in order to receive the Zoom link.
Contact
If you have any questions, please contact Jesse Miller jmill64 [at] gmail [dot] com
About Zoom
This program will be presented on the Zoom platform. It is available for computers, smart phones, and tablets. You will need to download the free app on your device before joining the session. Once it is loaded, click the link and follow the prompts to join the session.
It is best to join 5 minutes in advance so that you are set up when the session begins.
And, make certain that your mic is muted when you join to avoid background noises which are multiplied with many participants.